Lake Arrowhead's Only Private Forest Wedding Venue
You're invited to experience our one-of-a-kind Rustic Natural forest wedding venue to discover the romance of nature with whispering pines and babbling brooks. The picturesque forest backdrops will make your wedding photos and videos absolutely stunning. Imagine your ceremony within a beautiful custom Log and Branch Gazebo, and at Pine Rose Cabins, you and your guests have lodging for the night of the event. Our wedding experts care about making your Wedding Day the best day ever. They manage the vendors and logistics so you can just enjoy your special day and create lasting memories. All of the Pine Rose Wedding Packages include a professional Wedding Coordinator to personally guide you along the journey.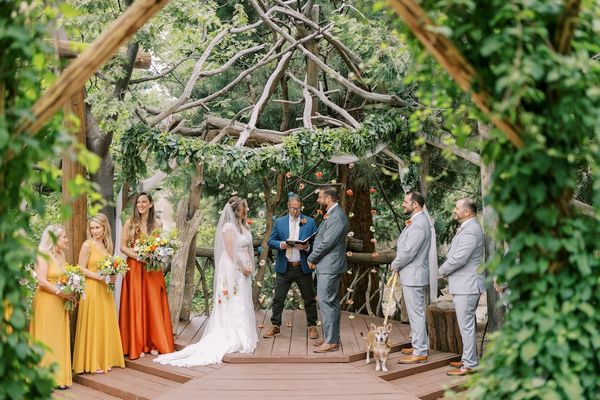 Private Tours Available
We believe once you see our site in person you will fall in love all over again. Between our tall pine trees and babbling brooks, pictures don't truly capture all the beauty. Set up a tour today at event@pinerosecabins.com.
Our wedding packages provide a range of exceptional services resulting in an unparalleled experience for you and your guests. Each package includes a professional wedding coordinator to personally guide you along the journey so you can look forward to your special day. We make it easy for you to decide on who to hire for your wedding and reception with our preferred vendors. Click here to learn more.
As you prepare for your big day you'll need some tools to plan your perfect wedding. Take your time looking through our wedding resources and find the wedding package that fits your plans the best. We have additional resources available upon request.
If you have any questions about our weddings, feel free to contact us at any time. Or check out our FAQ page for some of our more commonly asked questions.
25994 Hwy-189
Twin Peaks, 92391