Lake Arrowhead's Only Private Forest Wedding Venue
You're invited to experience our one-of-a-kind Rustic Natural forest wedding venue to discover the romance of nature with whispering pines and babbling brooks. The picturesque forest backdrops will make your wedding photos and videos absolutely stunning. Imagine your ceremony within a beautiful custom Log and Branch Gazebo, and at Pine Rose Cabins, you and your guests have lodging for the night of the event. Our wedding experts care about making your Wedding Day the best day ever. They manage the vendors and logistics so you can just enjoy your special day and create lasting memories. All of the Pine Rose Wedding Collections include a professional Wedding Coordinator to personally guide you along the journey.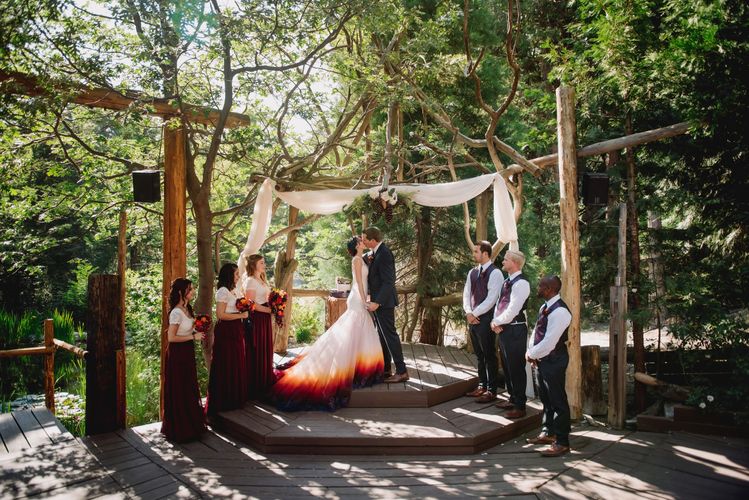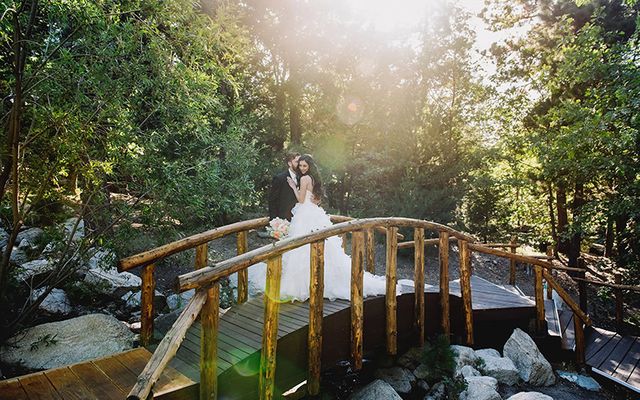 Hidden Creek Lodge
Here at Pine Rose Wedding venue, our wedding professionals are dedicated to providing exceptional services for engaged couples searching for the right wedding venue at the right price. Our Couples get to experience stress-free wedding planning and detail management, one-on-one highly experienced wedding consultation support, and access to exclusive preferred vendors.
What makes Arrowhead Pine Rose Cabins so unique? All of our real cabins are spread out over 10 acres of forest with many streams and ponds. At Pine Rose you can get the best of both worlds! Like a vacation rental, all of our cabins are private homes and include fully equipped kitchens, yet like a hotel, we have a wonderful team ready to welcome you and help with any needs you may have. Also, Pine Rose offers amenities like an outdoor spa all year and seasonal pool, play areas and small sled run in the winter. Some of the cabins are even pet-friendly! Come escape from the busy city life and enjoy the serenity of the Lake Arrowhead mountains, streams, and whispering pines.
Our couples rave about how easy and stress-free it is to plan with Pine Rose Weddings. The all-inclusive packages at our venues give you peace of mind knowing that you're saving money and have WAY less work to do. Plus, your wedding vendors are trusted and familiar with your venue. Your guests will be amazed with how you pulled it off... but you'll know how easy it really was.